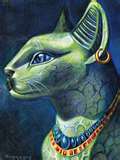 Cats have been accused of many things, including a desire to be worshipped. Feel free to try this concept out for yourself -- believe that life is infatuated with and revolves around you; as if each living creature is only seeing the best you have to offer; and nature itself has created the most amazing miracle ever.

Believe that space and time have united to give you whatever necessary at
the most essential moment. And now you know what it's like to be adored! Or me.