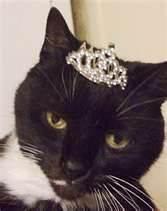 Cats have mastered the art of pleasure.

We purr lyrically, bathe in sunbeams, and lap up the stinky delectables
provided by our humans. We stretch inch by glorious inch, delight in rubbing against a variety of textures, and generally excel in pampering ourselves.

It's my suggestion that you humans try cultivating comfort and refining reality until your life noise is just a whispery distraction. I'll wait over here and bask in my awesomeness.