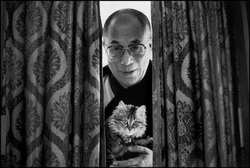 Cats are not known for being generous. And yet many
humans have received our gifts of purrs, kneading, and dead lizards/rodents/flying things. We give these items without any strings attached or demand for appreciation, indifferent to your praise (or horror). Have you mastered this skill?

Since you probably won't consider me an authority, let's hear from a couple of human experts. The Dalai Lama's thoughts on such benevolence: Labor to reduce suffering and foster justice, yet accept that all of your efforts may come to nothing in the end. Or as Santa would say, good for goodness' sake.

FYI, they are both cat lovers. Coincidence? I think not.