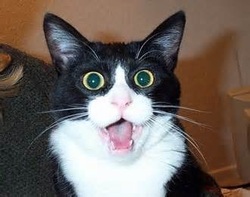 Just so you know, cats don't really like surprises. When Fight or Flight kicks in, anything goes. We've got a startle reflex that makes humans look positively immobile in comparison. So if you don't want to spend the next 3 days looking for your kitty in every conceivable nook and cranny or would prefer to keep your face from being clawed off, skip the scary stuff.

Humans, however, love to frighten themselves. You manage to both thrive and shrivel on fear and excitement. So I suggest you manage this weird facet of your species by doing something proactively constructive.

1. Go cat burglar and steal…yourself some joy. Take an extra 5 minutes just for you, grab the last cookie from the jar, turn that silly pop song all the way UP and dance around. Do something to put a smile on your
face.

2. Do whatever you most dread…and then do it again after you realize it's not so bad after all.

3. Imagine worst case scenario whilst petting a purring kitten. Miraculously, purrs will always defeat
panic.

Tell us your best strategy for warding off monsters that go bump in the night!