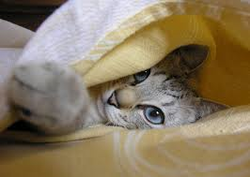 I challenge any human reading this to try an experiment. Imagine what it's like to be a cat. I'm not suggesting you get on all fours or try pouncing…although you're certainly welcome to attempt that experience. Rather, I'm proposing a sort of sensory overload that most people won't understand.

Discerning vision, phenomenal hearing and astounding coordination. See beyond what's right in front of
you. Listen, really listen, with every fiber of your being. Also, I'd like to point out that landing on your feet can be metaphorical or literal.

Here's a good way to get started…wrap yourself up in something soft and S-T-R-E-T-C-H.