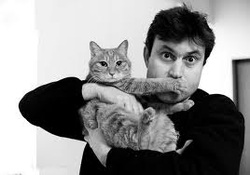 Felines know how to hold a grudge. We really don't see much point to the whole tenet "forgive and forget." Because we don't forget…ever. But that's not to say we won't grant amnesty.
If you beg/crawl/prostrate yourself enough, a cat may declare truce. (This option is highly recommended if you value your safety and sanity.)

Even though we may still recall the intolerable incident that caused the aforesaid grudge, kitties are capable of something much more significant when slighted than forgiving and/or forgetting. We accept that you're going to incur our wrath. And we accept that after the appropriate amount of groveling, we'll still need you to open up our tins of smelly succulence.

So dump that inferior philosophy of forgive and forget in the litterbox…acceptance is a much better way to get along with each other.