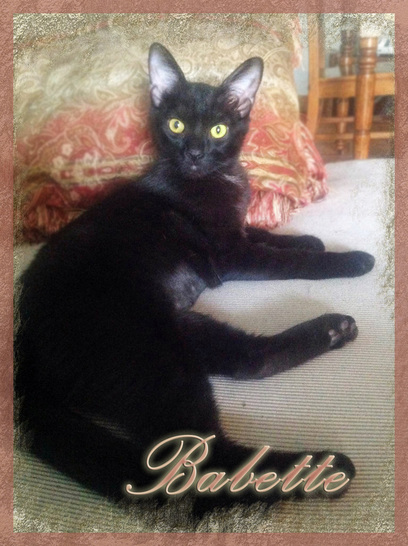 In addition to Babette, my household has three cats in it: Nico, a one-year old rescue kitten I adopted from Smitten With Kittens last August, and Grendel (a calico) and Shez (a Siamese), two ten-year-old female cats. Grendel was also a rescue from a pet hoarder, adopted after it became clear that kitten-Shez really, really, really needed someone to focus on for attention other than the humans in her life.

All the cats were introduced after a waiting period in which they could first smell but not see each other, then see but not interact, then interact under observation, and then interact freely. After a few introductory hisses, Babette and Nico have gotten along tremendously well; they tussle and chase each other very comfortably, and sometimes Nico holds Babette down and grooms her face (while she tries to gnaw on his, usually). Sometimes they lie together like a yin-yang symbol and practice rabbit-kicking each other's head.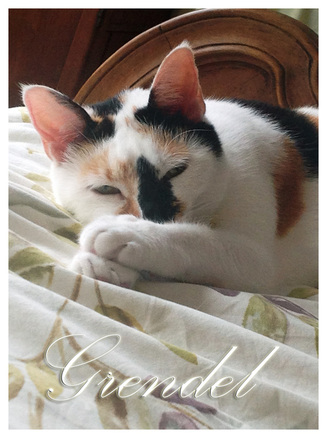 Babette and Grendel are more cautious around each other, mostly getting by on a live-and-let-live policy. Grendel, who has chronic kidney failure, has been accustomed to dominating the household, usually by throwing her weight around, literally: she would fall on and pin down the other cats until they ceded authority to her. As her kidney failure has progressed, she's lost weight, and Babette has challenged Grendel's uncontested reign because Babette's too energetic to know when to back off. So Grendel keeps her cowed by the occasional application of a paw when Babette gets too boisterous. This allows Grendel to sleep peacefully wherever she likes (often in front of the patio doors, the spot with the best view). But Grendel has also become wary of passing by Babette if they're both standing, because Babette seems to take standing as an invitation to interact, and has tried swatting for attention. Sometimes Grendel swats back, hisses, and sends Babette running, and sometimes Grendel trots by her at a brisk pace: it's the "I want to get past you quickly without engaging, but don't want to lose face by appearing threatened by you" trot.



Babette has also started becoming proactive about interacting with Shez (i.e., swatting at her whenever they're near, and chasing her upstairs and then trying to swat her), which has made Shez wary of being in the same room with Babette. She's spending most of her days napping atop my old wardrobe or a bookcase, spots Babette can't reach.

Nico looks a bit bewildered when this happens--I can't decide if he doesn't understand why Babette isn't playing with him, or if it's that he doesn't understand why Shez is caterwauling without him there to cause it. Making Shez howl (by falling on her and gnawing) had been Nico's preferred pastime prior to the advent of Babette.

I enjoy figuring out their strategies for interacting with each other. For example, Grendel, Shez, and Nico all use the staircase against Babette. The risers are still taller than Babette's legs are long, so she often stumbles and trips going up them, which slows her down. So if any of the other cats want a breather, they run up the stairs, shaking her off en route. Babette either gets distracted, or the other cat finds a tall refuge or has a few seconds to prep for a showdown. Babette also likes to run full-speed at Nico and leap on him, and he has taken to rolling with her pounce so he can use her momentum to toss her right off him, or he presents his full length to her. He weighs almost twice what she does (he's about twelve pounds, and she's about six), so sometimes she runs into him expecting to bowl him over, and, instead, just bonks into a furry wall.

One of the best things about having multiple cats is watching them interact with each other.

~Heather