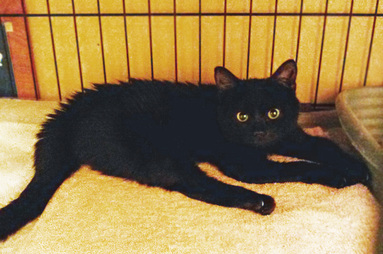 Yesterday, Babette got spayed. With my adopted cats, de-sexing them has either been a necessary obligation or something that occurred before the adoption took place. Whichever way it happened, it required little effort and less thought; it was just a routine part of being a responsible pet owner. Babette's situation, however, is different. When I first took her in to foster, she was almost immobilized by a bad case of rickets.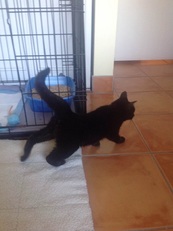 Rickets is a rare vitamin D deficiency. It left Babette with bones so fragile she couldn't stand properly. Instead, she dragged herself on her carpal joints, which is a bit like trying to walk on your wrists. We couldn't trim her claws because holding her paws might have broken her toes. And she only weighed two pounds, which is what an eight-week-old kitten might weigh; Babette was sixteen weeks. Even though those two pounds put her over the minimum weight for spaying, stressing her further with surgery wasn't a good idea. Instead, she got sent home with me, lots of high-protein food, and instructions to hold off on spaying her until she was healthier.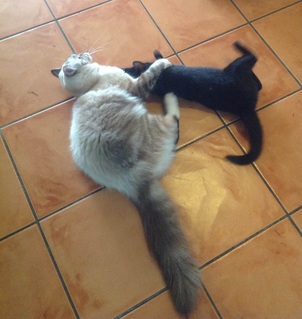 Two and a half weeks ago, Babette went into heat. On one hand, that was great news: Babette was healthy enough that her body had energy to spare for a heat! On the other hand: Babette was in heat. Much consternation resulted, particularly on the part of Nico, my year-old boy cat. Babette kept begging him to have sex with her. And Nico, who had been neutered as usual at two pounds, had no idea what to do. I was very glad that I had a spare room, and that Babette had a tiny voice.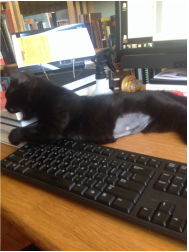 So, yesterday, Babette got spayed. I'm so delighted that she was healthy enough for it! Never before has a spaying been so significant for me. It means that Babette is healing from the damage done by rickets. It means that she has a chance to grow up to find her forever home. And it means that, with her shaved belly, Babette is rocking the suit-and-waistcoat look!