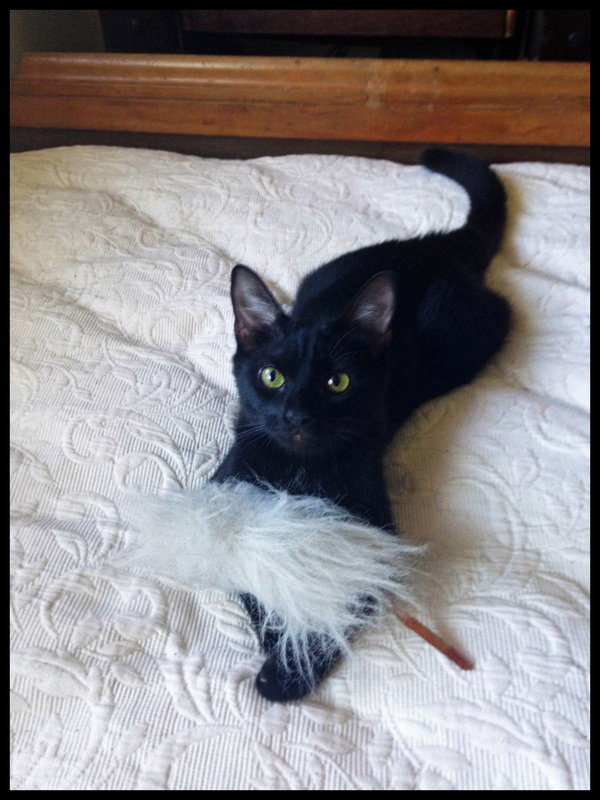 It is both amazing and gratifying how quickly cats can recovery from surgery. And also a little bit daunting, as I've been reminded by Babette in the past few days.

There are, apparently, different approaches to giving cats pain medication after a routine surgery like spaying. One school of thought advocates for them (as a previous vet of mine said, "If I'd had my uterus removed, I'd definitely want something to take the edge off!"). Another argues that cats recuperate with extreme rapidity and often act as if they haven't been injured, so feeling some pain slows them down and prevents re-injury. I generally favor pain medication, but Babette wasn't sent home with any. It soon became clear that, in her case, this was definitely the best decision.

The afternoon I brought her back from spaying, I debated where to put her: in the guest bedroom, which has been her space for a while? It contains a bed and other surfaces she could and, pre-surgery, had jumped onto. Jumping could pull her stitches. Or should I put her in the guest bathroom? Since there was no space to put her in that would not have had jumpable surfaces, I decided to go with the familiar space, and put her back into the guest bedroom.

I let her out of the carrier and sat down on the bed to watch her. Babette stepped out of the carrier, strolled over to her food (which I had been assured was appropriate to give her that afternoon), and took a few hearty bites. Then she looked around the room, trotted over to the bed, and jumped right onto it.


I nearly died. Her stitches! Her poor belly! Her pain levels!

Babette, however, did not care. She just wanted to be stroked and scratched under her chin. I obliged, after taking a couple of calming breaths.

Babette, of course, was just fine, and in the days since her surgery has continued to act as if she hasn't been injured in the slightest. She lunges at her ball-track toy and pushes it around the room. She wrestles with the cushy cat pads on the floor. She trots around with her large fuzzy toy, Lovely Lucy, clutched triumphantly in her mouth.


And she demands release from the guest room at regular intervals. This morning, I decided to let her out for a few minutes while I readied her wet food breakfast. I thought she would be happy to wander about the second story of the house.

I opened the door. Babette charged out and ran down the stairs. Then she found Nico, and chased him the length of the house at top speed. Then she turned around, and he chased her at top speed back to the kitchen. Then she ran to his food bowl and started eating his kibble.

Years ago, I read a short story by Mercedes Lackey about a cat who lived on a spaceship. One passage from that story stuck with me then, and I'm reminded of it now. Lackey wrote that kittens, "had exactly two neurons in those cute, fluffy little heads. One neuron to keep the body moving at warp speed, and one neuron to pick out the situation guaranteed to cause the most trouble."

Today, I definitely agree.