In the first couple of weeks after I began fostering Babette, the state of her digestive system was of much interest. At the time, what we knew was that she had rickets. But the type of rickets was still unknown: either
it could have been situational, in which case just giving her good food would help her improve, or it could have been genetic, in which case she might have continued to decline.

(Spoiler alert: it was situational!)

Basically, we would get a sense as to her health by how she ate and eliminated.

In the first couple of days after I brought Babette home, she didn't have much of an appetite. This was concerning. Was she not eating because she was ill, or was it because she didn't like the food? And was she not eliminating because her illness left her with too little solid waste to eliminate, or was she constipated, or was something else amiss? When she ate, how much, exactly, was she eating?

So we started trying her out with different foods, eventually switching to a high-protein formula. The first night, I dabbed a bit on her muzzle to catch her interest, and she lapped some up after that. The next morning, I gave her more, and she lapped that up, too. Then she used the litter box! I have never been so relieved to see a cat defecate before. I left her alone to tell Operation Paw that she'd eaten, feeling pleased with the situation.


Little did I know how briefly my happiness would last. After sending an email, I came back to check on her and found that there was formula all over her cage. She must have tripped on the bowl and splashed it around, I thought—Babette still found walking a very rickety experience at the time. So I left the cage open for her to wander about if she wanted, and went to fetch some cleaning products.

When I returned, Babette was playing hide-and-seek under the bed. I crossed to the cage to clean it—and stepped in a puddle of warmish, frothy liquid.

In my bare feet.

I shrieked and jumped back—and stepped into another puddle. Babette kept playing happily while I hopped out of the room on one foot to go wash myself.

Operation Paw and I eventually determined that this was a continuation of Babette's upset stomach: the formula was too rich for her. So we tried something else, which Babette ate voraciously.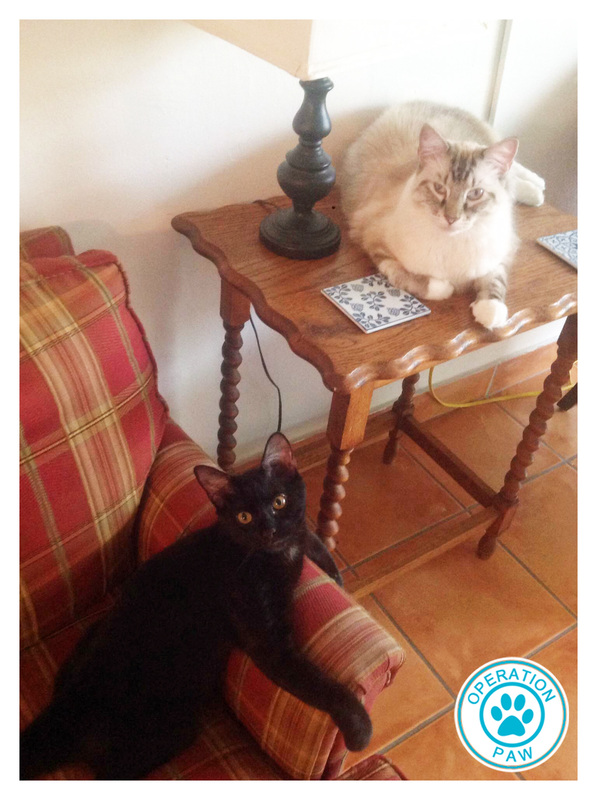 Babette hanging out with her BFF (Best Fur Friend) and foster brother Nico. She can hold her own with him now!
Since then, we haven't had to look back: her weight began to increase steadily, and she eats whatever food she's offered (or whatever catches her interest; I'm pretty sure I saw her chow down on a moth last week).