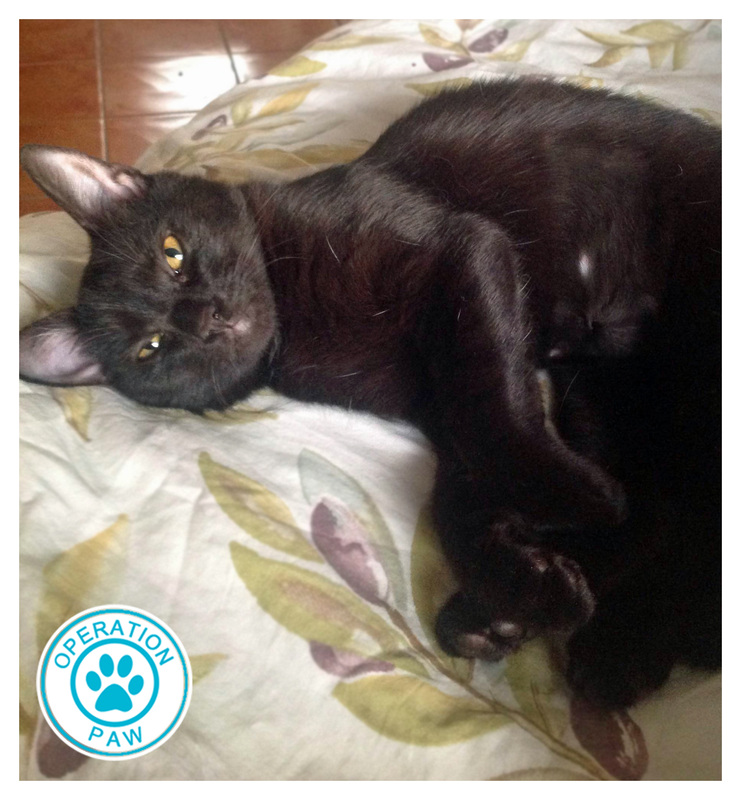 Babette was rescued right around the time she turned four months old. This is, apparently, a threshold age for cats: if they aren't socialized with humans by four months, some cats may never accept human affection. For a while, we were worried Babette would be one of those dedicated ferals. Probably because she was all but immobilized by her rickets, Babette had decided that the best defense was a quick, fierce, and silent offense.

If she didn't like how she was being touched (and rickets had left her sore and oversensitized), she struck out with a paw, silent, fierce, and fast. Trimming her claws involved two people, a blanket, and a furious struggle. However, Babette did show an interest in humans: she watched her rescuers at Operation Paw, and then me, pretty intently as we cared for her.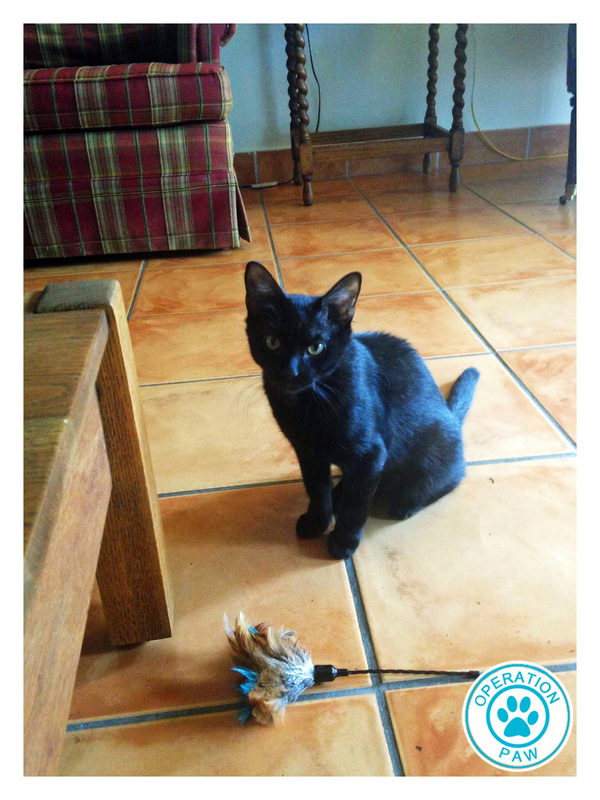 One of the challenges—and the pleasures—of fostering Babette has been not only to accustom her to accept and enjoy human affection, but learn new modes of behavior. Since one of the difficulties in knowing when to back off was that Babette was so quiet, I began praising her whenever she made noises, even if they were unhappy chitters or gaspy growls (she has the tiniest, smallest voice I've ever heard from a cat). That way, Babette learned that she could offer a warning before she felt the need to swat. But she still wanted to swat, and swat at the smallest provocation (such as a paw being touched).

So began the slow process of petting and praising her when she accepted touch, and carefully finding out where she wanted to be touched and wanted not to be touched. And trying to retrain her responses: since she initially didn't understand what "No" meant, I had to hiss at her. This made her pause and, sometimes, run away—and I praised her when she ran away: better that she disengage and remove herself from a situation she didn't like than to pitch a battle over being stroked. Also, once she started vocalizing reliable warnings that she didn't want to be touched, I had to tread a fine line between acknowledging that and not letting her think that she could bully humans by making unhappy noises at them. Socializing Babette meant that both of us had to spend time learning to communicate effectively with each other.

Today, Babette is a champion cuddler! While she isn't one of those cats who like nothing more than to be petted all day, she relishes doses of human attention and affection. In particular, she likes to lean against my leg or a waist if I'm stretched on the couch or bed; she tries to stand on my chest so she can knead my belly; she runs up to me and leaps on my lap when I sit down, or drops toys for me to play with her. Trimming her claws is now a one-person activity! And, perhaps best of all, if I scratch her under the chin just the right way, she collapses in a puddle of pleased kitty.