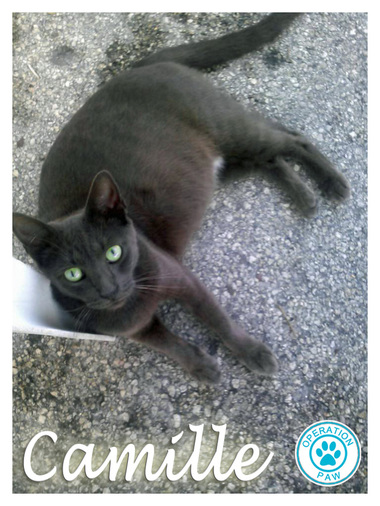 Camille had been a familiar fixture at the Flea Market for a year or two -- friendly and sociable, she weaved in and out among obliging legs, greeting the shoppers and hoping for a morsel of food in return. She was pregnant again, and the vendors who looked out for her worried that none of this litter would survive, just like her two previous ones. Between the dangers of life on the streets and the sweltering South Florida heat, it wasn't an easy existence for this young girl and she struggled daily to find enough food to sustain herself and her unborn babies.

A kind-hearted young man who frequented the market just happened to be an acquaintance of one of our directors, and he mentioned his concern for the Momcat in passing one day. After much discussion and a bit of strategizing, two of our rescue ladies set out to the market with a trap and a silent prayer.

You can see from the video that the outcome of the first attempt was not in their favor.

Not to be discouraged, a live trap was set and baited with yummy food, and they went away hoping their second attempt would be a success. Luckily, Momcat was hungry enough to go into the live trap the next day, and her existence on the streets was behind her forever.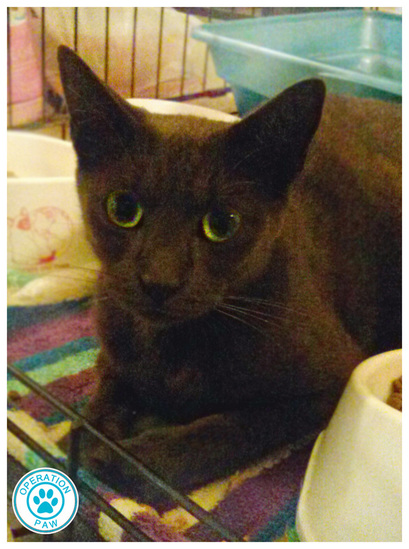 There was general excitement--we finally got her! She and her babies would be safe!

However... now that we had finally managed to catch her, where could we place her? We sent out an SOS to our fosters, and one wonderful lady stepped up to give our Momcat a temporary place to stay until more permanent accommodations could be arranged for her. Despite being among strangers in an unfamiliar place, this kitty was gentle and calm, and we decided to call her Camille--a name as pretty as our new little Momcat.


At first she didn't necessarily want to eat and we made a late-night trip to her foster home to begin syringe-feeding her recovery food to kick-start her appetite.

And it certainly worked--after the first few bites she needed no further encouragement and she began eating like a champ. The biggest obstacle out of the way, we left her to settle in and rest.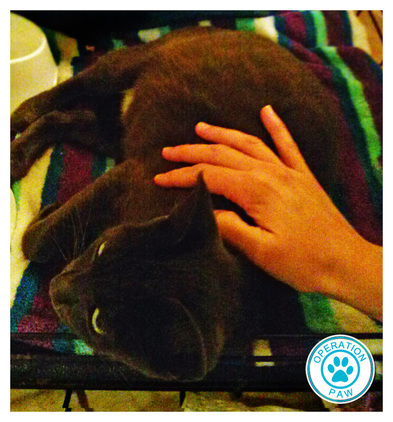 As Camille settled into her new life, we began the long wait for her delivery. We hoped and prayed that her unborn kittens were healthy and that the regular nourishment she was receiving during this final period of her pregnancy would be enough to give them the strength to survive.

Luckily during this final period, an amazing family stepped up to provide her with a long-term foster home and she was transferred and had settled in well before she gave birth to five beautiful babies!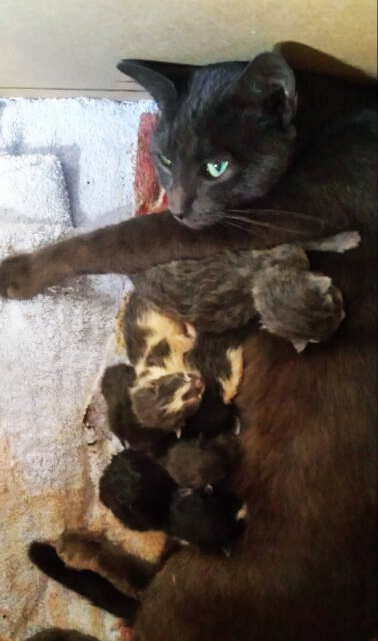 Five healthy, thriving babies have grown and developed, much to the delight of all of us here at Operation PAW! This time around Camille is safe and loved and her babies have had the opportunity at life that her previous litters did not. We have received frequent photo and video updates from her foster family, and we have been blessed to witness the journey this little family has made.
Camille settled into the role of Mama Cat beautifully and she has focused on the welfare of her babies with fervor. They are fat, healthy, and adorable, and we are so happy that she finally gets to see her little ones grow and thrive!

Her foster family has been caring and attentive and has made sure the little family is safe and comfortable. They even made a little cardboard fort for them to hang out and play in! We think they appreciate it!

Camille's beautiful babies are around 6 weeks old now, and are developing distinctive personalities as well as markings. They are learning to play and romp, and are mastering the transition to solid food with Mamma supervising their every action.
Camille's kittens are safe and sound, learning the ways of big kitties in the loving home of their foster family. They have weeks of growing left to do before they will be old enough to start looking for their forever homes, but stay tuned for updates!

These are the youngest members of our 'Flagler 50' and we look forward to watching them grow and develop, and find their very own families in the not-too-distant future.

Camille and her babies are part of our

'Sponsor a Speuter'

program, and if you would like to donate $30 for one of their spay or neuter surgeries, you can receive updates on your chosen kitty! Click

HERE

for more details.