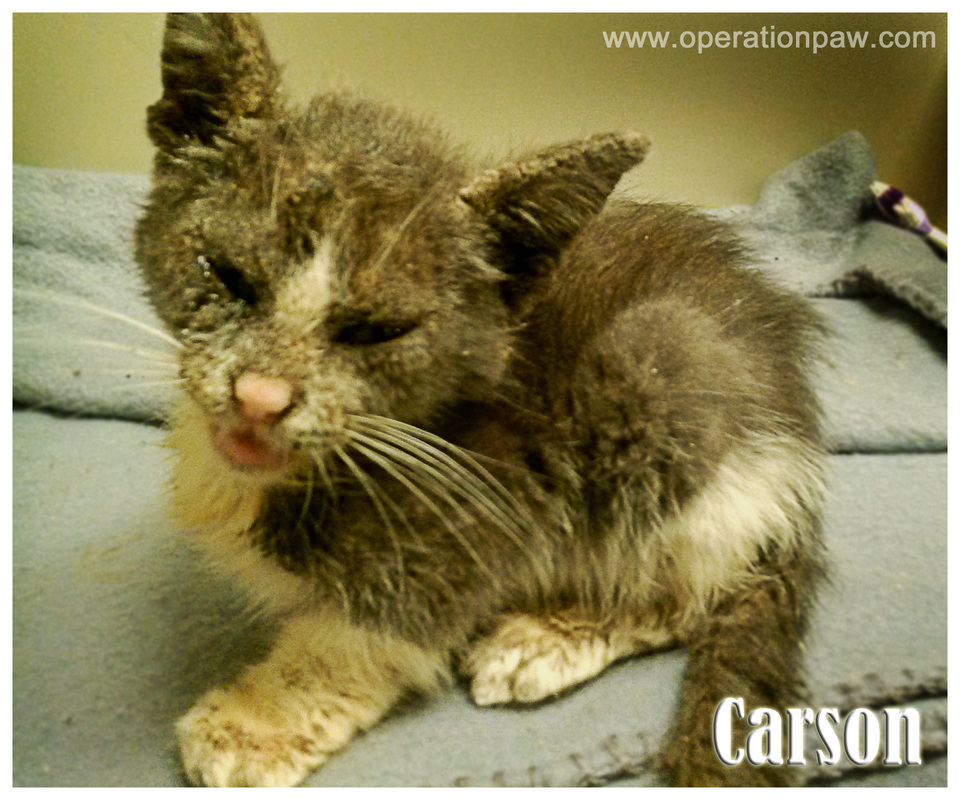 My name is Leisa and I am the Medical Officer here at Operation PAW. It is with a heavy heart that I must share with you the sad news of Carson's passing.

This is the difficulty of rescue work--sometimes no matter how hard you try, no matter the time and energy you invest in restoring health to a tiny creature, their little bodies are too frail, their systems too weak. Sometimes the best of care and love and the sheer force of will just aren't enough to save them.

We mourn the loss of every little life in our care.

We cry hard and often.

We get really angry at the injustice of young lives lost far too soon.

And then we regroup and remind ourselves of the words of our beloved Dr. S, the extraordinary Veternarian who has been so kind to us over the years. "Do the best you can for all of them, and when you lose one, focus on the ones you can help now."

I had an update post for Carson almost ready to publish... and I am still going to share some of it with you. It is important to realize that even though he is no longer with us, his little life had meaning. We cared for him. We fought for him. And we will do it again.

Even though our little man was with us for only a short time, our little former 'throw-away kitty' quickly became quite a treasure to us here at Operation PAW. He was well-loved and safe, and made as comfortable as possible during the last week of his life. His story could have ended taped shut in a tiny box, sweltering in the Miami heat, but instead he drew his last breath surrounded by people who cared about him, who had done everything they could to help him back to health.

I became very attached to little Carson--it tends to happen when giving such intensive care to a kitten. There is a part of yourself that becomes entwined with them, and their victories are yours... their loss diminishes a little part of you.

Although his vision was limited due to the persistent crust solidifying his face into a narrowly-slitted mask, he recognized my voice after the first day and began to call out for me the moment he heard me speak. He had come to associate me with the yummy high-calorie recovery wet food I syringe-fed him every day. He loved to be held and to have his back and face gently rubbed, and although unsure at first, he had discovered the delights of the makeshift 'hot box' incubator that helped to maintain his body temperature.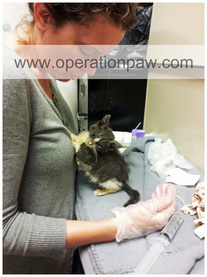 During the past few days, our little man had begun to gain a little bit of strength and showed new interest in the world around him. He had been receiving a regimen of antibiotics, vitamins, probiotics, fluids, and topical treatments to help him in his battle.

Yesterday, for the first time in a week, Carson put his little paws up on my chest in typical kitten-style to be picked up and held. In fact, he scaled my chest in an attempt to get closer to me.

You can imagine everyone's absolute delight to witness this new action! Similarly, he raised one little paw to groom his face, which sent us into cheers. We were desperately hoping that this was only the beginning of more little victories to come.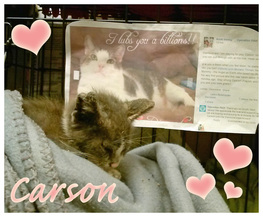 We received a lovely message of encouragement from Diamond, a fellow Florida kitty who was also rescued in a terrible state, covered in horribly crusted mange and ill with an abscessed paw. We printed off the message and photo and placed it on Carson's cage--as much for ourselves as for him. The knowledge that such a transformation is possible kept us all strong as we began the daily battle toward a happy ending for our own crusty little man. The wonderful lady who nursed Diamond back to health also encouraged us with a before and after shot, which gave us hope for the future.

We cherished every tiny improvement and focused on the day in the not-too-distant future when we would see Carson with his eyes wide open, his fur thick and healthy, and his sad past nothing but a memory put well behind him.

Sadly, that was never to be.

We did the best we could for him, and we are absolutely devastated at his loss.

Rest well, little man. You are whole and healthy again and there were many others waiting for you at the Bridge. We will meet again one day...

We would like to thank everyone who made donations to our organization--we understand that many of you donated funds specifically for Carson, and if you would prefer now that your donation be refunded, please contact me at
leisa@operationpaw.com
. Please keep in mind that we have may other special cases who will benefit from the donations you have made. Your generosity will not go to waste, and your donations will continue to go toward the treatment of all the little lives entrusted to our care.
| | |
| --- | --- |
| | We are a completely volunteer-based and volunteer-run organization with no outside funding. It is through your donations that we are able to carry out our ongoing rescue work. If you would like to contribute to the cause of the abandoned and abused creatures in our care, please click on the donate button. We are eternally grateful for your support! |