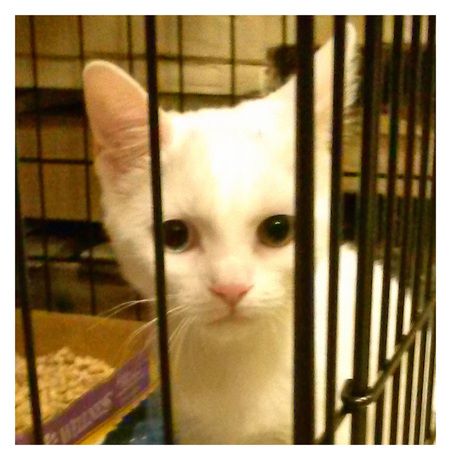 Dear irresponsible pet guardian:

We rescued your cat today.

The one you abandoned in the pet store... terrified and alone, cowering under the shelving between the aisles.

We know this cat had a home until this past weekend... pristine white coat, beautiful pink ears, long slender claws. Not a speck of dirt or patch of stained fur.

Shame on you.

It took seven of us to catch her.

She was so gripped with fear that she went into self-preservation mode and acted completely feral. So afraid that she lost all control of her bowels and bladder. Her pupils were so dilated that we couldn't tell until the next day that she has two different-colored eyes.

I am calling white cat 'her' because she is delicate and pretty--I can't verify that this poor petrified creature is male or female because none of us can safely get close to her yet.

Did you even stop to think how scared your pet would be when you dumped her there? When you turned your back on her and walked away, leaving her in an unfamiliar place filled with barking dogs, strange smells, and human strangers everywhere?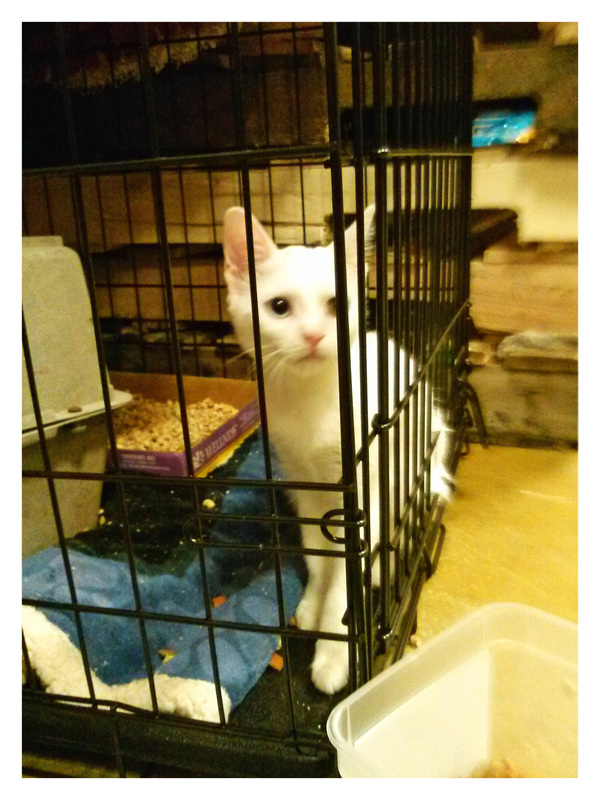 This is where your pet is right now.

We had to leave her in a carrier for an entire day in an attempt to let her calm down.

She didn't.

She fought and struck out, spat and hissed... there was no comforting her as she tried to figure out why she had been left behind. Why you didn't come back for her.

Yesterday she was a little better.

She was interested in us despite herself and she came to the bars of the crate to sniff the air.

Memorizing our scent.

Taking note that these people are feeding her. They gave her water and treats and spoke gently to her. So far it doesn't seem as if they will harm her. But she isn't quite sure just yet...

White Cat is now in our care.

We will do the best we can for her. Work with her daily and try to gain her trust. She is a beautiful, highly-adoptable kitty, so we hope that she will not be emotionally scarred by your heartless actions indefinitely. She is still young--we estimate her to be around 5 months old. We hope that she will live in the moment and overcome this sad part of her past.


Her life will not end because of her heartless abandonment. But it would have if she had been taken by animal control. Did you stop and think about that?

I'm guessing not.


Yours in derision,

Operation PAW





Unfortunately this is an all-too-common occurrence.

Why do people think it is acceptable to abandon their pets in a strange place, assuming someone else will take responsibility for them?

This poor terrified creature is now our responsibility.

We have no room for her. But of course, we have had to make room.

We need a special foster to work with her, build her confidence and trust... and we do not have one. But somehow we will find one.

We are in a state of transition--we are currently responsible for fifty cats and kittens who are looking for homes, and Miami Dade Animal Services is waiting to move into our adoption center. That can't happen because irresponsible, heartless people keep pulling stunts like this, abandoning their own responsibility.

When will this end?

We have to stop this trend--Just like little Carson, White Cat is not a throw-away kitty!


We are asking for your help to name 'White Cat'--please head on over to our
FACEBOOK PAGE
and leave your best name in the comments!
If anyone has experience with fostering/socialization of a very stressed kitty, please contact us. We desperately need a calm home for this poor kitty to decompress and settle into. Her life literally depends on it. Please contact us at
foster@operationpaw.com
if you can help.
| | |
| --- | --- |
| | Our animal welfare organization is completely volunteer-based and volunteer-run, and as such we rely on donations to continue our work. If you would like to help in the care of our rescue kitties, please click on the link below. No amount is too small, and you are helping to save lives! We are grateful for the support! |