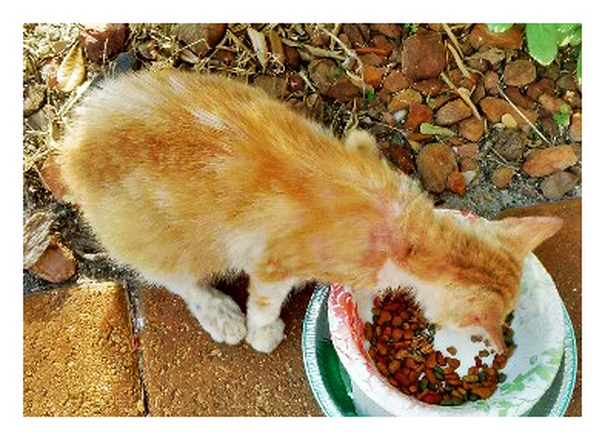 This is the first photograph we ever saw of Milana.

She was far from pretty back then--crusty patches of hair loss covered her body and what fur she had stuck out at odd angles, looking dry and disheveled. Her ears were dirty and crusted, her nose scratched and scarred. Thin and bleeding, she desperately dodged neighborhood children who were chasing her, throwing stones at her ravaged body. People in the community shooed her away on sight and feared for their dogs and children when they saw her, repulsed by her large expanses of missing fur, the remaining patches of angry, visibly raw skin.

Instead of thinking to help this poor creature, they did the opposite and tried to harm her.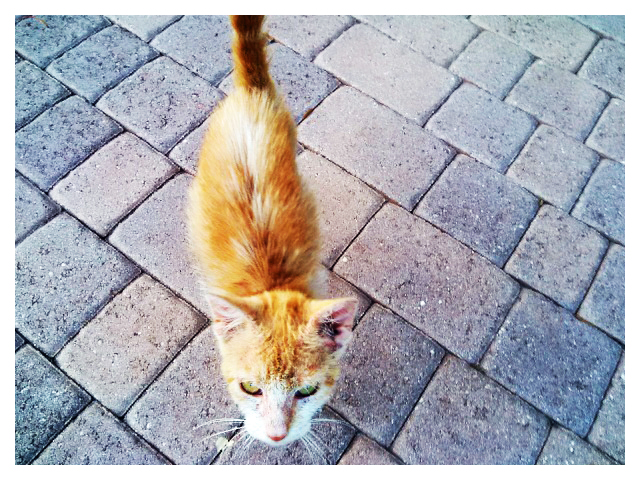 Luckily, one neighborhood lady showed amazing kindness, and despite having no previous knowledge of cats and being the guardian to two rescued greyhounds herself, she made the choice to help.

She saw the kitty in need, chased away the neighborhood children, and began putting out food and water for the poor little creature. She bought a cardboard kitty cubicle and placed it in a secluded spot by her front door to provide shelter. She talked with neighbors, looking for options, but everyone tried to disuade her from helping. She finally learned that one of our volunteers lives in the neighborhood and asked us for help, and the long rescue process began.

Despite her appearance the kitty was young, and we worried for the fate of this girl if she was left untreated. At first, orange kitty was skittish and came to quickly eat her meal and run off. Hardly surprising considering her previous interactions with humans involved shouting and projectiles. But kindness and good food began to win her over, and slowly she became very affectionate with her human lady.
We had no idea if this cat was socialized or a community kitty and she only appeared reliably at mealtimes, so in the beginning we treated her by dosing her wet food. She received medication via food to combat the skin condition, liquid vitamins, probiotics, and antibiotics for the secondary infections that were sure to set into her bleeding, raw skin.

The process was slow and seemed to take forever... and then one day we received news that orange kitty had begunn to rub against the lady's legs! Success!

That small act alone gave us hope that this abandoned baby wouldn't end up living the rest of her days on the streets--if socialized, she could indeed become somebody's indoor companion!

One sunny day, through sheer good luck, we were able to rescue her and we took her immediately to our vet. After receiving an injection to decrease the inflammation throughout her body, she was ready to go into a foster home. One of our best foster families had an opening, and we never looked back. We named her Milana after the neighborhood she came from, and she quickly settled into life in her foster home.
Thanks to her superstar foster parents and their furry family, Millie learned to trust kind hands, to enjoy being petted and loved, and to interact with her furry clan.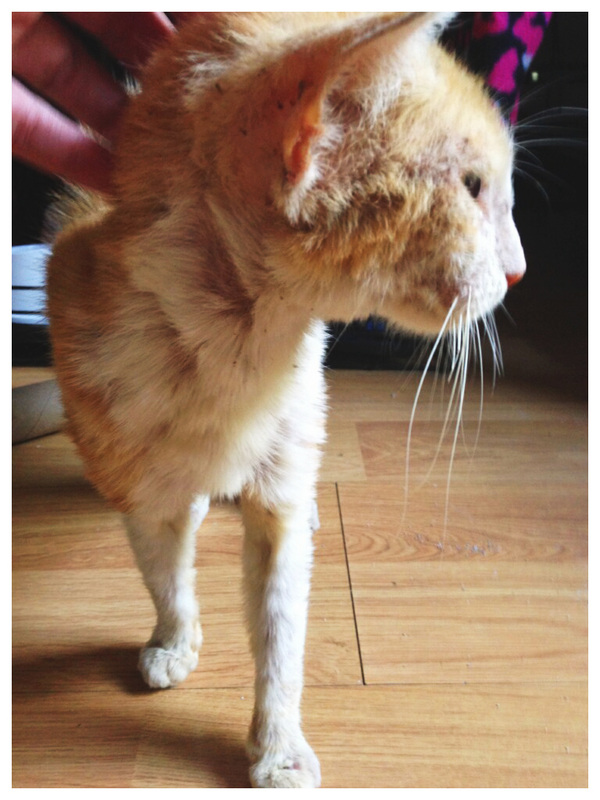 Millie's transformation has been nothing short of miraculous--her skin has healed, her fur grown back in. She has been socializing with her foster siblings and her big dog foster brother and sisters, all with great success!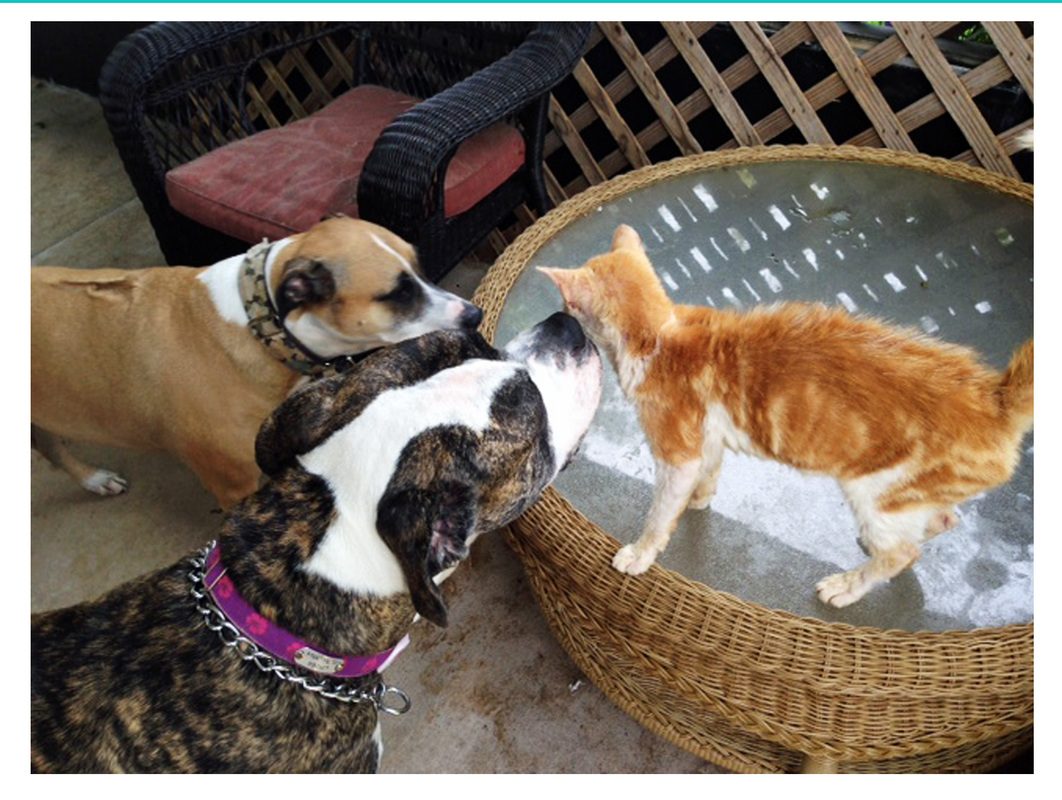 Millie especially enjoys the foster kittens!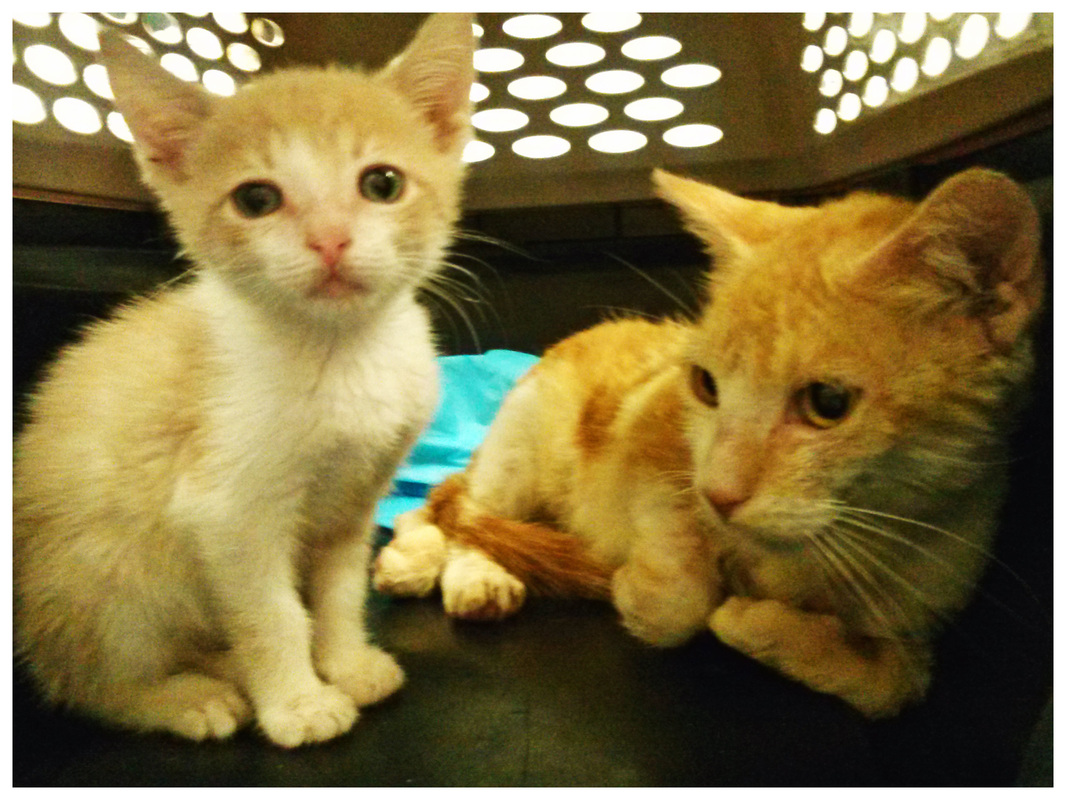 Our beautiful Milana has been spayed and vaccinated, and is now ready to go to her very own forever family! She has become very social and does well with the kittens and dogs in her foster home, and she is bright and curious--enjoying human interaction and wanting to participate in all aspects of household life.

She has made herself very comfortable in the presence of her foster family--as you can see--here she is showing off her spay scar!
Milana is a beautiful girl with a rough past who just needs a home of her own and lots of love. She is very affectionate and curious, and will be a wonderful addition to any home. If you would like more information on Millie, please contact us!

adopt@operationpaw.com