Becoming a Foster for Operation PAW
---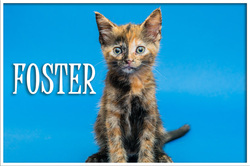 What is a foster?

Fosters are some of the most crucial elements within our organization. A foster is someone who temporarily houses a cat within their own home. Without fosters, we would not be able to save any cats at all. Operation PAW - and all rescues and shelters across South Florida - are always desperately in need of fosters. We can only save as many animals as we have foster homes for, and there are simply never enough. Fosters quite literally save the lives of the cats they are fostering, since a rescue can only pull an at-risk cat from a kill shelter if there is a foster home for that cat to go to.

---
---
As a foster, do I have to pay for supplies and medical expenses?
All expenses are paid for by Operation PAW. We provide all of the necessary supplies and cover any and all medical expenses that may arise. All you have to provide is shelter and love!
What if I want to keep the cat that I'm fostering?
That's fantastic! We love "foster failures", and fosters always get first dibs on their foster cats.
Are there different types of fosters?
Yes! Different cats have different needs. Here are some of the different foster scenarios:
Age/Weight Fosters
care for kittens that are not old enough or heavy enough to be spayed/neutered and vaccinated. These kittens are healthy and simply need to do a little more growing before they are ready to be adopted.
Medical Fosters
care for cats and kittens that require some sort of medical attention. Often this is as simple as applying eye ointment twice a day! There are, of course, more serious cases that require specialized attention. We are always happy to provide training for those who are interested - however, we will never give you a cat that you are not comfortable caring for.
Bottle Feeders
care for kittens that have, for whatever reason, been separated from their mother. This is a highly time-consuming task, as newborn kittens must be bottle fed every two to three hours (yes, even in the middle of the night)! Due to its time-consuming nature, there are very few people who are willing to bottle feed. As a result, many healthy neonates die needlessly at kill shelters every year. If you have the time and inclination to be a bottle feeder, you will save many tiny little lives. If you have never bottle fed before, we are happy to show you how it's done and guide you through the process.
Socialization Fosters
provide care and attention to some of the more "difficult" cats that were never properly socialized. These cats may be shy or aggressive, or they may have a specific behavioral problem that needs to be worked on.
Cat Family Fosters
have one of the easiest and least time-consuming tasks. When you foster a cat family, the mama cat does all of the work. All you have to do is provide for the mama cat - she will take care of her kittens while you sit back and watch them grow up. This is a highly rewarding task because you get to watch newborn kittens open their eyes, take their first wobbly steps, and eventually develop different personalities.
How do I become a foster?
Fill out our foster application or send an email to
foster@operationpaw.com
- it's as easy as that!