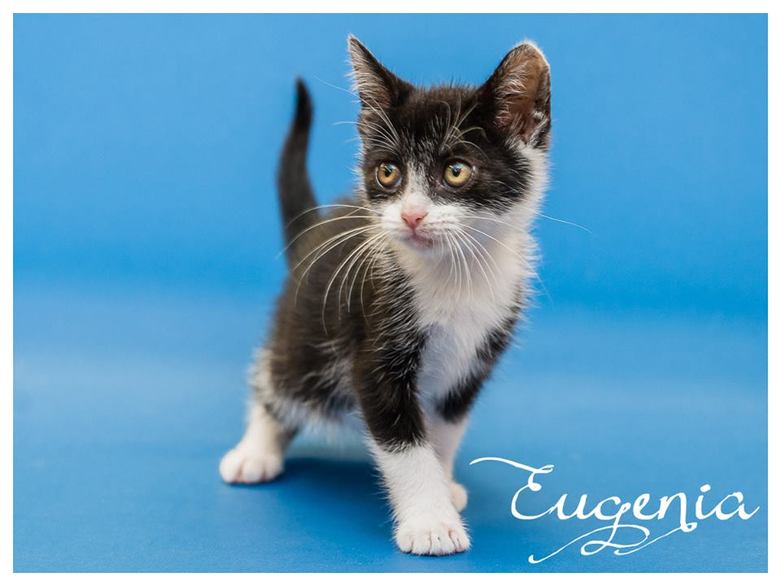 Meet a very special girl--her name is Eugenia (Genie for short) and she came to us in the spring of 2014 along with 4 of her siblings. They had been found in really rough shape, all alone and motherless, on the property of a dog rescuer in a rural area to the south of Miami. We took in the whole litter and they have had nothing but medical problems--URIs, UTIs, entropion, hernias, fungal infections... the list goes on and on. But Genie always stood out--she was so very ill with a mystery sickness that three different Vets (over more than a year with at least 25-30 vet visits) could never seem to figure out. We nursed her for an entire year, going to our own Vet repeatedly, even taking her to Hollywood Animal Hospital to see a very successful specialist, and we were always met with puzzled looks and confusion. She should have been fine--but she wasn't. At around a year and a half old she only weighed in at 3.5lb. Her little face and body were so small and frail that the final specialist (#3) we took her to see was astounded that she is still so young--she said that by her body alone she would have thought her to be an elderly, 10+ year old kitty.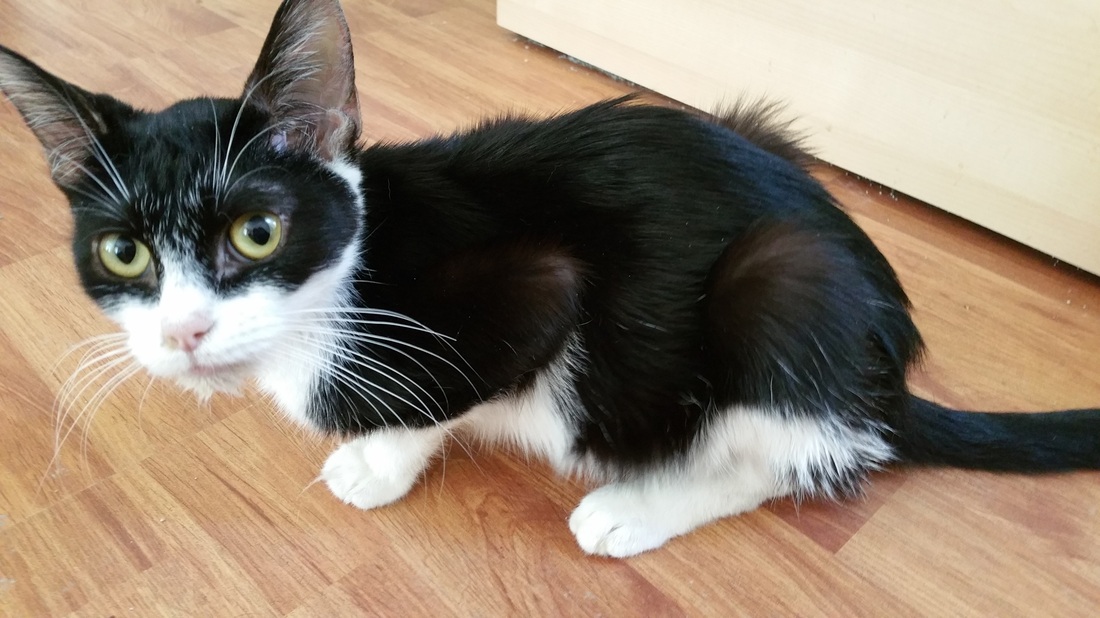 We have an amazing group of volunteers and fosters, and Genie's original Foster Family took wonderful care of her for well over a year--we firmly believe that Genie would not have made it this far if it hadn't been for the Moore family. She crashed on us so many times, but each time the love and determination of her Foster Mom brought her back, and we kept asking for help and trying to figure out her problem. Eventually we finally found a vet willing to take the time and solve the puzzle--and the results astonished us. She is diabetic--rare in one so young, and the Vet was amazed that she was still alive after living with this for so long untreated. Sadly, it wasn't for lack of trying.
Thanks to a very kind supporter's donation, we started her on Lantus and after just a week of therapy she was a whole different girl. Her Foster Mom was literally in tears as she kept checking in to report how well Genie was doing--she was running, playing with the other kitties, grooming herself, and eating like a champ.

​She was enjoying life and we were so happy to finally see her becoming a *normal* kitty! We will continue to work with her until her blood glucose has stabilized and see if perhaps she can be switched from the Lantus to another insulin at some point. In the meantime she is very well cared-for and content.


| | |
| --- | --- |
| Early days were miraculous for Genie--she had a big first week of therapy and ventured up the big scary stairs in her foster home for the first time in a YEAR! She loved this new-found energy and was racing around the house, playing with her siblings, jumping up onto the sofa (something she would never do before), and talking up a storm to her Foster Mom. She was a girl on a mission! After surviving an entire year of undiagnosed illness, we really feel that Genie has a great purpose--maybe her story will help a young child out there who feels different and isolated due to their own diabetes. | |

​Genie's story has evolved since her first days of insulin therapy--unfortunately her amazing foster family moved WAY across the country to the southwest this summer, but luck was on our side. The call went out to find new placement for Genie with an experienced foster who would be able to carefully monitor her blood sugar and nutrition, and superstar Foster mom Jen stepped up! Jen is a Vet Tech, so we were thrilled when she offered to open her home to Genie.

The fact that Jen had also moved away from Miami this summer meant that Genie still had a journey ahead of her--this time to the cool shores of Long Island. Transport was arranged, and to everyone's relief the voyage went smoothly.

Genie misses the Moore family, but she is quite content to be a northern girl now and has settled into her new situation quite nicely. She woudl like to thank everyone who made her journey possible.

Please consider sharing Genie's story--it is a good reminder that we should never give up on a kitty with a strong will to live, whatever the circumstances!
What we would love for her is that she eventually becomes a companion kitty for a child or juvenile human who also suffers from Juvenile Diabetes. What better guardian for a diabetic kitty than another young one who understands the challenges and lifestyle that a Diabetic faces every day? What a special bond that would be! ​We would love to find Genie a little human of her very own with a similar medical condition so they can grow up together and become lifelong companions. We think that would be an amazing thing both for Genie and for a child struggling with being 'different'. We feel that it might make the disorder a bit easier for a tiny human who has to take daily insulin injections if they see a kitty who also has to have the injections and how well she handles it. After very little time it was clear that Genie had come to understand that her needle will make her feel better and she takes her insulin injections like a champ! Little Eugenia kitty truly is a tiny miracle.