| | |
| --- | --- |
| | Goober was discovered on May 17th, 2015 as part of a routine TNR project. He was more outgoing than the other cats, and walked right up to one of the volunteers. It was then that she noticed a bleeding wound on his neck. She immediately decided that after his neuter, she would take him home and nurse him back to health. She expected that it would be a simple matter of healing the wound and finding him a new home, but as the rescue world always teaches us, things are rarely that simple… |
Problem #1: The wound was very itchy, and Goober kept re-opening it as he scratched it and rubbed it against objects. He would constantly flip his water bowl over in his efforts to scratch his neck on it. He received new hanging food and water bowls, and the volunteer set to work on healing his wound.

Problem #2: Goober was tested and found to be FIV+, meaning that his immune system was compromised. This made him more susceptible to problems like upper respiratory infections and parasites, and meant that his wound would take longer to heal than it would an ordinary cat (it would eventually heal after two months).

Problem #3: Goober had severe fluctuations in appetite. One week he would eat like a horse, the next week he would lose all the weight he gained, vomit daily, have severe diarrhea, and grow lethargic. He was chronically dehydrated. He grew consistently worse, so we took him to the vet.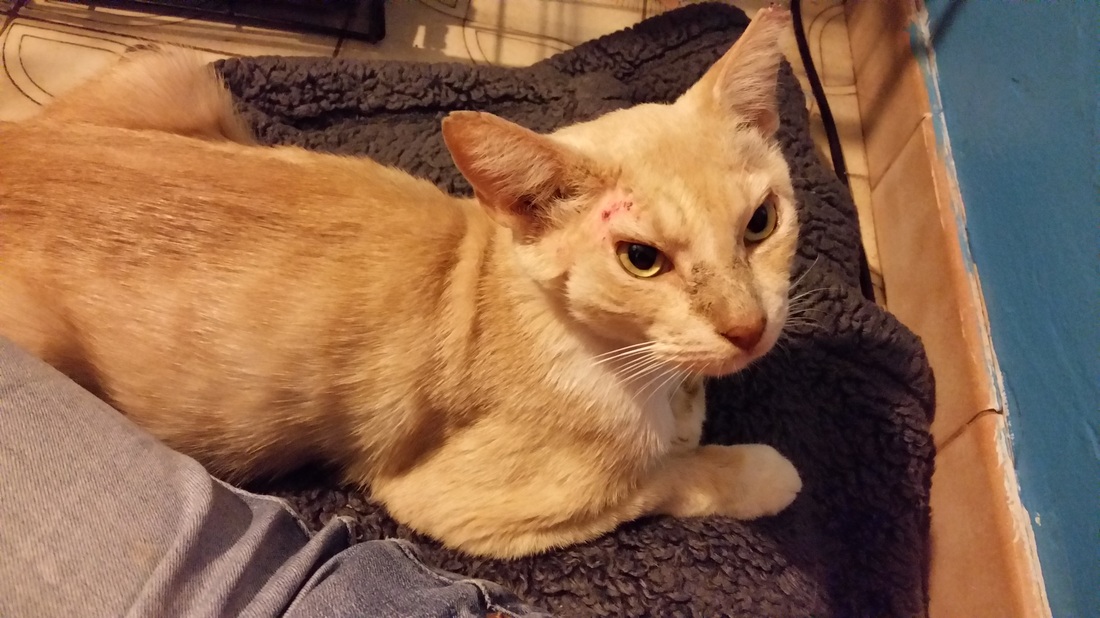 Problem #4: The first vet gave up on him, citing the fact that "we can't save them all".

Problem #5: The second vet gave up on him, citing the fact that his liver values were "literally off the charts" and "it's noble what we're trying to do, but we can't save them all".

Problem #6: The third vet finally committed to helping him, but it would require thousands of dollars of tests, bloodwork, and a week-long stay at the veterinary facility. We agreed.

Problem #7: Goober gained some weight and began eating again! But his test results came back. He had liver flukes, which had caused severe and possibly irreversible damage to his liver, pancreas, and bile ducts. These internal organs were severely inflamed – his pancreas and bile ducts were many, many times the size that they were supposed to be. The vet said that she was likely sending him home for hospice care, and not to get our hopes up. A treatment course began anyway – supplements and many different medications were given to him every single day.

Problem #8: Goober returned to the vet many more times for checkups over the next couple of months, and a miracle happened! His liver values returned to ALMOST NORMAL, something that no vet believed was possible! He was eating well and living a very happy life! But the diarrhea continued, and was worse than ever. A fecal sample determined that he had hookworms. Treatment began.


Problem #9: The treatment made his diarrhea worse. He would have no bowel movements during the day, but 8 or 9 liquid bowel movements each hour of the night. The diarrhea was so foul smelling that it was impossible to sleep through, which resulted in his foster waking up every hour on the hour to scoop his litter box, wipe his paws and bottom, and comfort him. The sleepless nights continued for several weeks, however, they would eventually improve. His first solid bowel movement was cheered and celebrated by his foster and our medical officer.

Problem #10: Goober began to lose weight in spite of all the food he was eating. The vet prescribed more tests, which came back normal. Different diets were tried. The weight loss continued. Goober, an adult male cat, weighed a mere 5 pounds. It was painful to pet him because all one would feel were bones covered by a thin layer of fur. The vet was asked if euthanasia should be a consideration; if Goober was suffering. We wanted to be sure that we were doing right by him. The vet determined that Goober was not suffering. She said "if we were going to euthanize him, it would have been when he was fighting for his ninth life that first week you brought him to us". She said that we were very much doing right by him, and to continue what we were doing.

Problem #11: Goober's veterinary bills ultimately amounted to over $2,500.


Goober passed away suddenly on September 18th, 2015, four months and one day after his rescue. He had been to the vet just two days earlier and received the all-clear, his bloodwork having shown normal enzyme levels. The vet believes that in spite of the normal enzyme levels, his liver simply could not recover from the damage caused by the liver flukes, and ultimately failed, which explained the mysterious weight loss. He did not suffer, and he left this world in the arms of his adopter. He was mourned as any pet would be – he lived and died as a beloved family member who will never be forgotten. Four months may not seem like a lot to us, but it was everything to Goober. In that time, his wounds – both physical and emotional – were healed. He knew what it was to be loved unconditionally, and to receive the best veterinary care that money could buy. He knew what it was to own a human of his very own.

Much love and light to our amazing Amanda, who spent so much time and energy in trying to help Goober regain his health in every conceivable way--if love and sheer force of will could have saved him, this kitty would have been eternal. Thank you, Amanda.

| | |
| --- | --- |
| Goober is the perfect example of our favorite quote, "Saving a cat may not change the world, but the world will change for that cat." We believe that every animal deserves a chance at life, and YOU are the ones who help us to give them their best chance. With your donations, we are able to provide necessary veterinary care to cats who would otherwise perish in the street. We *literally* cannot do this without you. | |