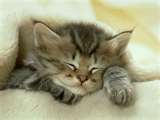 Felines manage to be both simple and complex simultaneously. It's a useful trick -- humans should try it as often as possible. Forget all you know about bad and good, suffering, or confusion. Instead think of one motivating desire…pleasure. Then you may have a beginning understanding of cats.
Cultivate
this attitude and you can create the life you always wanted.
For me, that life includes a lot of naps. What does it mean for
you?