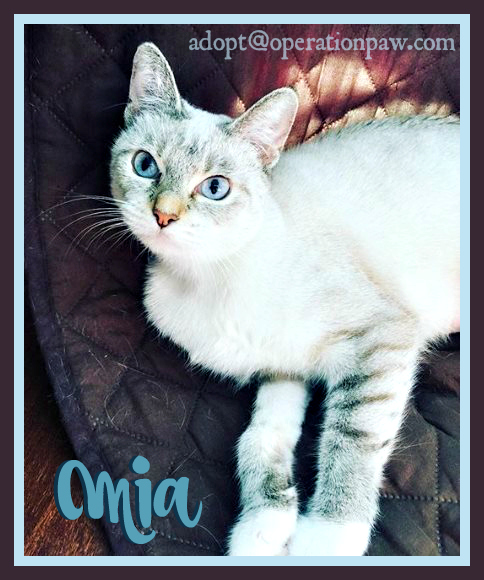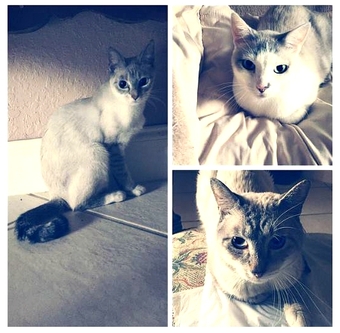 Mia's journey with us began as a desperate plea from her 'family'--the human Mom was near death and had been in the hospital on life support. Her doctor was going to allow her to return home for care, but he stated in no uncertain terms that due to her medical equipment and overall health, there could be no pet hair anywhere in the home.

So... Mia and her brothers found themselves in a very difficult position. The family pleaded for help to find them a good, loving home. They were supposed to be fully vetted and very friendly and affectionate. Dog-friendly, pig-friendly, human-friendly... all-around great kitties. They were said to be 4 years old. (Mia) is pictured on the left, and her brothers are pictured at the right--Finn (top right) and Frisky (bottom right).


---
A plea went out to find them placement and our hearts broke for these siblings that were displaced from the only home they had ever known... but that all turned out to be a lie. Sadly, these were not healthy, well cared-for kitties as the 'family' had claimed, and their human 'Mom' was not so ill that the family wouldn't get a PUPPY shortly after abandoning these babies to our care.

Finn was taken by a family member, so we have no way of knowing his status, but Mia herself tested positive for FIV--not a huge problem by any means, but definitely something we needed to know to ensure we kept Mia in good health Poor little Frisky was not so lucky and he was in late-stage kidney failure when he came to us. He was not depressed and a bit lethargic due to his change in circumstances as we were led to believe--by the time we got him to the vet it was too late and he was humanely euthanized to end his terrible suffering.
Mia was left all by herself--lonely and confused. She missed her brother and her grief was palpable. She had already been through so much that it was unimaginable when her abdomen began to swell and the Vet diagnosed her with wet FIP. Euthanasia was recommended, but we wanted to give Mia a chance--especially considering everything she had lost in such a short period of time. We researched, we monitored her, we hoped for a miracle... and her Foster Mom could hardly believe it when the cat that we were all told was fully-vetted began to give birth one morning.

She delivered two kittens and continued to struggle, so she was rushed to the vet where she had to undergo life-saving emergency surgery. Fortunately they were able to save Mia and one remaining baby, but two others did not survive. We were just grateful that our precious girl pulled through--and furious yet again to discover the extent of the lies we had been told. To go from a Wet FIP diagnosis indicating humane euthanasia to a surprise pregnancy was the very last thing any of us would have ever thought possible.

Fortunately Mia and her babies did well and they all gained strength with each passing day. Her beautiful little kittens were delightful little balls of fluff and she was a wonderfully attentive Mamma.

Each day they grew and thrived and the time came when they were old enough to be separated from their Mom and start their very own journeys with their forever families.

Sadly, as is far too often the case, Mia still has not been adopted. This poor girl has been through so much that we can't even begin to imagine the confusion and sadness she has experienced. One thing we do know--we will never fail her like her previous 'family' chose to do. We are so thankful that, despite all the strikes against her, she has persevered and battled through huge obstacles to continue her journey.

Now we need to make sure she gets her happy ending. If you would like to be part of Mia's story, please consider welcoming her into your home. She is a calm, loving, gentle girl who just wants to be loved. She could live in a harmonious household with other kitties, but would prefer a dog-free environment. Please contact us for further information: adopt@operationpaw.com