Hi there,

My name is Colin, and I had a human once--it's been quite a while so the exact details are kinda fuzzy for me, but I vaguely remember a man who fed me and looked out for me. Our life might not have been fantastic, but it's all I knew... he was my human, and I loved him. I think he loved me, but who could have guessed what our futures would hold?

I'm not clear on exactly what happened to change that, but he did something bad and had to go away. Words like 'shooting' and 'jail' came up, but they didn't mean much to me... all I know is that I was left alone, and the streets were tough.

I lost weight, struggled to find enough food to survive. I know I didn't look great when the kind lady saw me, because she knew I needed help at first glance--she's a colony caretaker and she watches out for everyone.
She bought me food and got someone to watch over me, but unfortunately that person wasn't very reliable, and I found myself homeless once again. I took up residence in an area that proved to not be very safe. The lady brought me food and tried to make sure I was okay, but my little territory was behind what turned out to be a 'drug house', and the mentally unstable man who lived there became increasingly violent toward us community cats. The lady got really scared--she was threatened by the man when she came with food for me, and she was terrified that something bad was going to happen. When she discovered that he had bludgeoned a community kitten to death with a shovel, she knew she had to get me out of there before it was too late.
In desperation she reached out to the rescue folks, and by nightfall I was out of there. I am so grateful that my angel was watching over me--even though I knew where to hide from the crazy man, I was scared by his behavior and I was worried. Now I have all the food I can eat and a soft bed--I can snack whenever I want and snooze in safety. I got a second chance, and I will always owe that lady my life.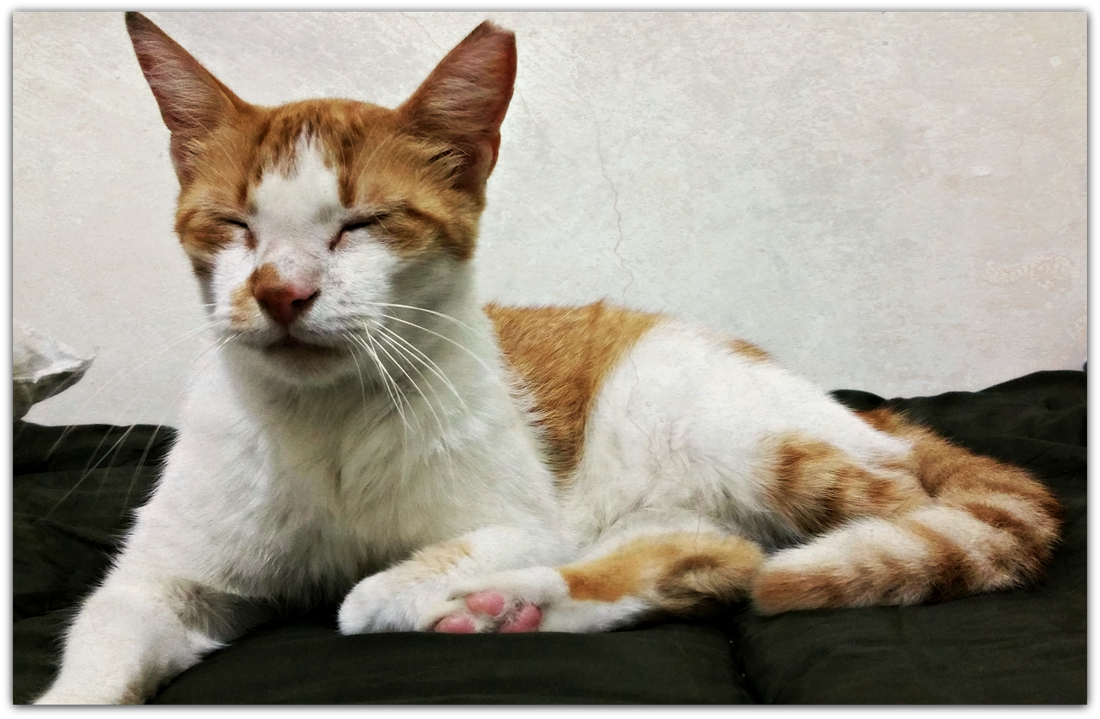 It's nice to have humans again, and I am happy to have a second chance at a home and a family. The rescue ladies tell me that will happen soon, not to lose hope because I am such a friendly boy. I really do look forward to that, but for the moment I'm quite content with a clean litterbox (what a luxury to have one of those again!) and endless wet chow. I know all of us kitties here at the rescue are so happy to be safe and well cared-for, and can't wait to find our very own happy endings!
Are you interested in Colin? Contact us! info@operationpaw.com