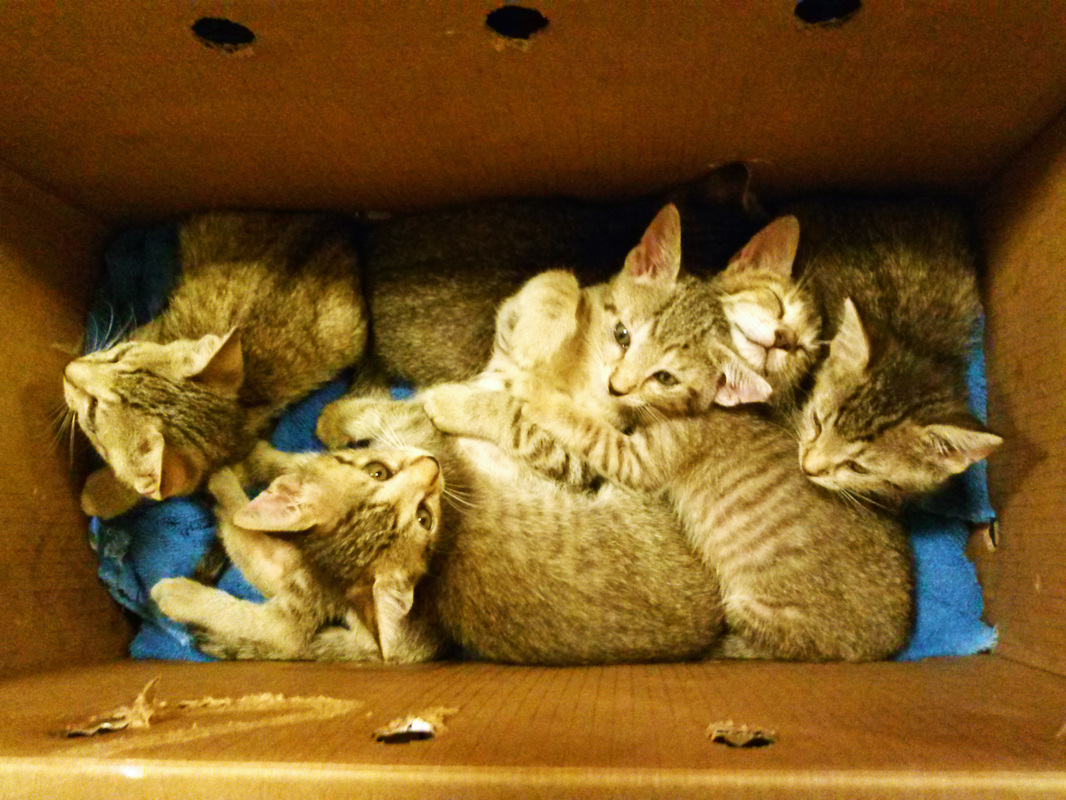 Once upon a time in a backyard not so far away, a litter of five tiny kittens was born. Their mamma was known as 'Moosie' by those whose properties she frequented in her daily struggle for survival, and she found herself a new Mom in the vicinity of one particular house.
Now in that house lived a very kind man named Robert. He saw that this little tabby had chosen to tuck her babies away in a sheltered corner of his lawn, and he put out food for the little family and monitored their progress. The little ones grew and began to explore, and he worried about them—their eyes had begun to crust with infection and they were clearly unwell.
At a loss for what to do, he came to us for help.
Antibiotics and eye ointments were administered, and the practically identical litter was deemed greatly improved. Everyone rejoiced at the success, and the kittens grew until they were old enough to be spayed/neutered and vaccinated, and they were ready to be placed for adoption.
Sadly, a terrible enemy found its way into the circle—a
deadly virus
infiltrated the systems of the young ones and, despite intensive treatment and monitoring, several were lost. There was grieving and sorrow—the loss of such young lives affects us greatly, and we all felt the weight of their absence.
One of the survivors was named Zayne, and his personality was as soft and inviting as his silver-patterned fur. Always happy to meet new friends, he greeted newcomers with a chirp and an invitation to play, and he quickly became a volunteer favorite. It was no surprise when, just after Christmas, he found his forever home.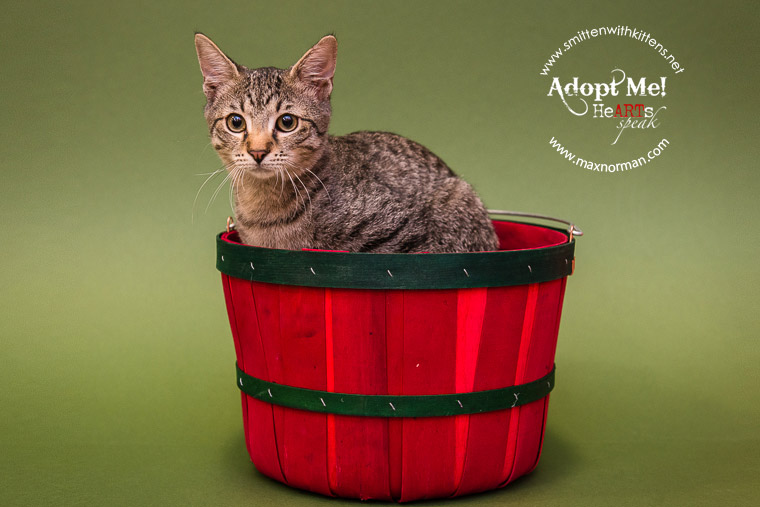 Or so we thought.

One afternoon in April a call was received—the kind of call that we hope never comes.

A juvenile cat had been surrendered at Animal Services, left in a dilapidated carrier with a blurry photocopy of one of our adoption contracts tucked inside. The cat's name was Zayne, and he was in the intake room—could someone come? A frantic phone tree was activated—everyone scrambled to mobilize and our medical officer, who just so happened to be closest to the facility, hurried to MDAS.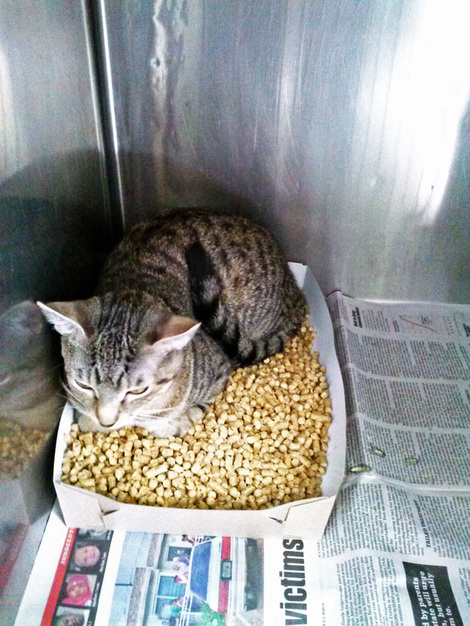 A heartbreaking sight met her upon arrival at the intake room—Zayne's large, startled eyes peered at her from the back of a cold metal cage. Licking his lips with anxiety he tried to make himself appear smaller as he crouched in the litter tray, shrinking back as her hand approached him in comfort.

How had this happened? Why had Zayne been left in this place? The first term of the adoption contract states that if, for any reason, the adopter cannot maintain guardianship of the cat they are to revert back to the rescue. Why had we not been contacted?

But the worst was yet to come. Upon intake Zayne had been FIV tested as standard procedure… and the result was positive. A second test was carried out, just to make sure there was no error. The same result came back.

Our medical officer was questioned several times:

"You still want him?"

"Of course!"

"Are you sure? He is FIV positive."

"Yes, of course I'm taking him, there's no question!"

It was with a sense of relief that we accepted our Zayne back into the rescue—thank goodness he had been surrendered with a copy of our adoption contract! Without that he would have been euthenized and we would never have known his fate. Our dear, sweet, loving little boy would have lost his life.

It was unthinkable.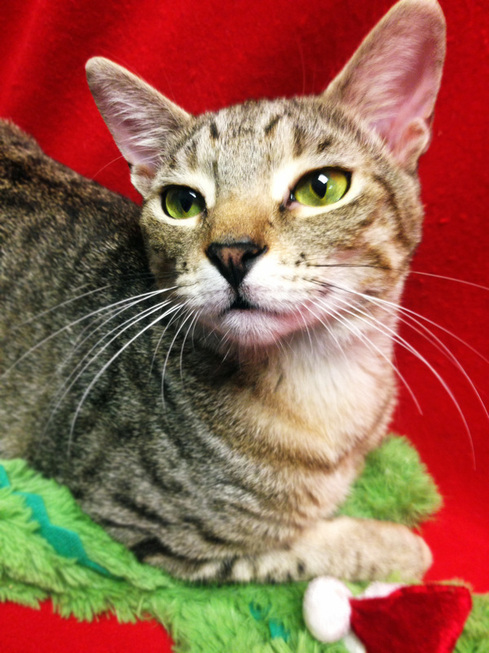 Detective work began—many phone calls went out, and most were unanswered. The adopter could not be reached. Her number had been disconnected. Finally a reference answered and the picture came into focus. His adopter had moved to Las Vegas several months before. She left the cat with her landlord, who was supposed to care for him. That obviously didn't happen, and instead of caring for Zayne he abandoned him at a high-kill shelter.

We raged at his adopter.

We cried for Zayne and what he had been through.

We felt so thankful that the man meant to care for him had at least been sensible enough to include his adoption contract when he dumped him at MDAS. Without that, he would have been lost.

We worried for Zayne—we know that his FIV+ status does not diminish his quality of life or longevity, but how would potential adopters feel? There is so much misinformation about the virus, and so many potential adopters are afraid—would anyone make a commitment to this wonderful kitty?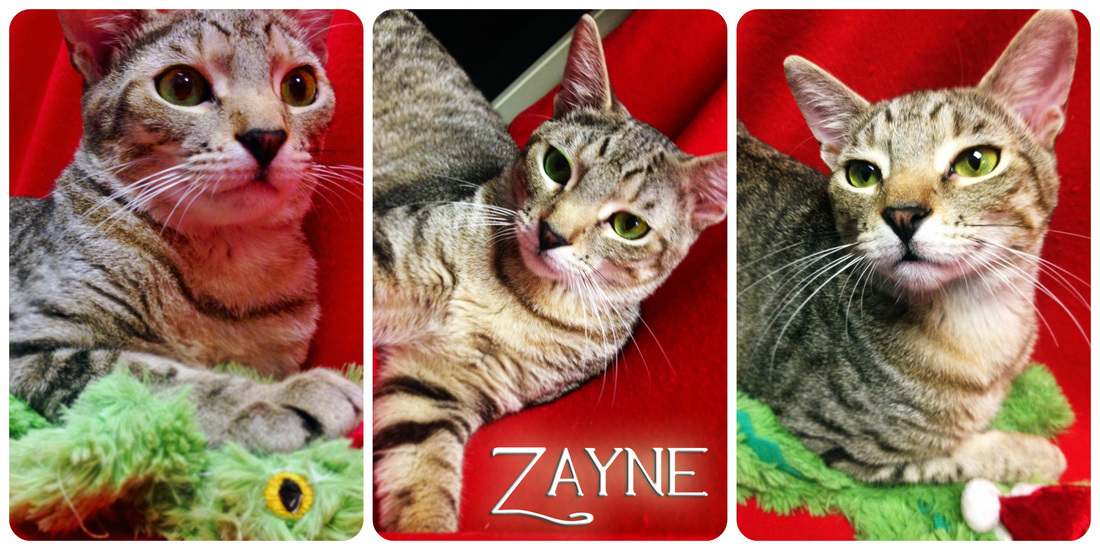 Days passed, then weeks, and Zayne prospered—he was as gentle and loving as ever, and wanted nothing more than to run and play and enjoy cuddles with his favorite humans. One of those humans happened to be a young man who has volunteered with us for several years. Their bond grew and we were ecstatic when, one day back in May, he decided to make Zayne a part of his family.

We are happy to report that Zayne is loved and spoiled in his REAL forever home, and he now enjoys the companionship of a big fluffy bunny named Oreo. He is healthy and active, and will have many happy years with his new family. They are aware of his special needs and monitor him closely, and we visit him periodically to check on his health.

Zayne's name is now Zeus--a new name for a new life--and he is the reigning king of his household.