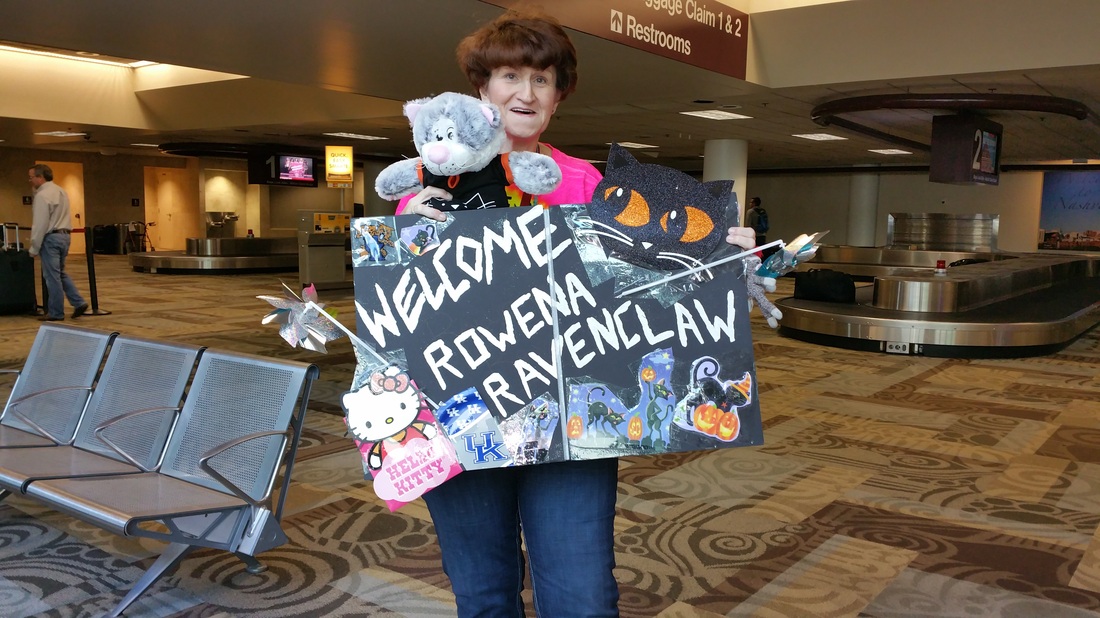 | | |
| --- | --- |
| | Rowena was found on May 16th, 2015, living with a colony of cats in front of an abandoned house during a TNR project in the neighborhood. As soon as the volunteers stepped out of the car a black kitten ran up to them, meowing loudly. The other colony cats retreated into the shadows, but this kitten was unafraid. When one of the volunteers reached down to pet her, she arched her back like a full-blown Halloween cat – not out of fear, but in an attempt to lift her back towards the volunteer's hands! |
A trap was placed on the sidewalk with a tin of sardines, but before the trigger could even be set, the kitten ducked under the volunteer's arms and entered the trap to eat. The volunteer decided to find a forever home for this vocal, fearless, hungry kitten.
| | |
| --- | --- |
| When Rowena was brought home, she was terrified and perpetually uncomfortable. She could not tolerate more than a few minutes of petting before getting overstimulated and withdrawing in fear. She also seemed to have an intense fear of human hands. She was placed with one of our best socialization fosters in the hopes that she would learn to be less fearful of hands – she was quite a contradiction because she LOVED being pet, but once she caught sight of the hand doing the petting, she would run away. | |
After working with her for over a month, the foster suspected that Rowena suffered from Feline Hyperesthesia, a rare, painful condition that causes the cat to be highly sensitive to touch. Two separate vets confirmed this suspicion. Feline Hyperesthesia sufferers will sometimes have spasms that cause them to either attack themselves or try to run away from the pain. We believe this condition explains her fear of hands – Rowena had learned to associate petting with both pleasure AND pain.
| | |
| --- | --- |
| | It turned out that the dramatic back-arching was actually hypersensitivity from the hyperesthesia. With prednisolone therapy, Rowena showed a dramatic improvement both in health and in temperament. She became more confident and could tolerate petting for much longer than before. Her temperament was still difficult, however. She was withdrawn, preferred to be left alone, and was not very affectionate. She would also need to be on varying doses of prednisolone or other feline hyperesthesia medications for the rest of her life. How would we ever find an adopter for such a difficult case? We weren't sure Rowena would ever find a forever home, and we became discouraged. Her foster was due to be moving soon, and then where would Rowena go? |
As it turns out, however, Rowena is a very lucky girl. We shared her story with several different Facebook groups, and one woman read her story and fell in love. She offered Rowena a forever home where she would be cared for and accepted just as she was! It simply became a matter of transporting Rowena from her foster home in Miami, Florida to her forever home in Kentucky.

One of our directors offered to make the trip, and soon the date was set. Rowena made it to her forever home on October 12th, 2015. Her wonderful new mom even made a special sign to welcome Rowena home. Rowena really hit the jackpot – her new mom is patient and understanding of her needs and her personality, and she loves Rowena exactly as she is. We couldn't have asked for a happier ending!
| | |
| --- | --- |
| If you would like to help rescued kitties like Rowena on their journey to health and happiness, please consider making a donation toward our rescue work. We are completely not-for-profit and 100% of your donation will go directly toward those who need it most--rescued cats! CLICK HERE TO HELP ---> | |