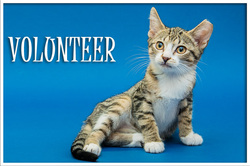 Thank you for considering volunteering with Operation PAW! As a totally volunteer-based, non-profit organization we rely completely on the generosity of those in our community who donate not only funds and ítems, but also their valuable time toward the cause of animals who would otherwise have no voice.
We are committed to saving as many animals as possible, and an important part of our success depends upon our amazing volunteers. There are many ways to volunteer--directly working with animals on a daily basis as a foster, working to help with our TNR program, using your specialty-skills in our endeavor to educate and inform the community about the importance of spay/neuter and animal welfare... the possibilities are endless and if you have the time and inclination to volunteer, we are sure to find a place for you and your special skill set!
Anyone can be a hero for the animals!
If you think you have what it takes to be a hero and volunteer your time and skills, please contact us to discuss how you can help us save lives. Email us at
volunteer@operationpaw.com
and we will go from there!
Thank you for your interest in volunteering with Operation PAW!
---