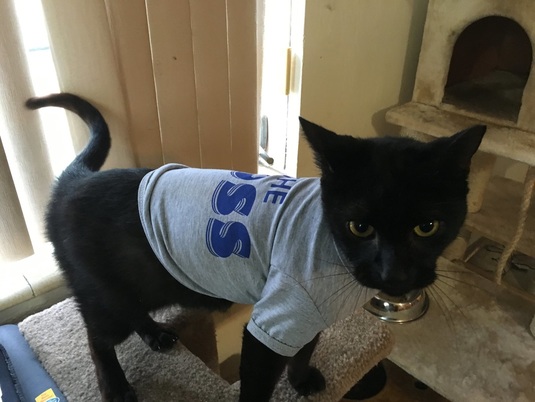 Meet Willy!

​Willy came to us in December of last year as an emergency case who desperately needed veterinary care. He had been living in a colony where the feeder had observed him losing weight and having immense difficulty eating food.

A plea went out to the rescue Miami rescue community--could someone take in this poor kitty who was clearly in trouble? He was a thin, drooling mess and although we really didn't have the funds or a foster to help him, we knew he didn't stand a chance on the street.

One of our superstar volunteers opened her guest room and Willy Wonka became an OP kitty. Little did he know it at the time, but that was the luckiest day of his life...
---
He was painfully skinny and dehydrated when he arrived at his new foster home. A preliminary trip to the Vet showed that Willy was FIV+. Nothing to be frightened of, but it meant that we would have to proceed carefully with Willy's medical treatment and care. Like many abandoned kitties struggling to exist on the street who are FIV+, Willy suffered from a very severe case of caudal stomatitis. His entire mouth and throat were horribly ulcerated and bleeding and simple daily tasks like eating, drinking and even yawning caused excruciating pain. Every time he swallowed, Willy would recoil sharply and shriek in agony while running away from food - his perceived source of the pain.

The first vet we visited referred us to a dental specialist, but warned that if they could not resolve the problem quickly, the most humane option would be euthanasia -- his life consisted of little more than pain. Fortunately, the specialists at All Pets Dental were not ready to give up on Willy.
​

His surgery alone would have cost $7,000 if not for a generous rescue discount -- but even with the discount, the cost of surgery was a huge blow to Operation PAW--one that we have still not been able to cover. Every single one of Willy's teeth needed to be extracted in order to combat the stomatitis. As you can see from his booklet from All Pets Dental Clinic, it took very extensive surgery to try to help this poor kitty--can you imagine the pain he must have experienced all that time struggling to survive on the street like this?
For the next several weeks, he received powerful pain medication and had to be fed through a feeding tube.
Through it all, Willy maintained his friendly and determined nature. With continued pain management he began to eat on his own, and the feeding tube was removed. After a couple of months, Willy's mouth healed completely and he no longer required any pain relievers. Today, Willy even eats hard food - he prefers it to the wet. He is a completely normal, happy cat with the exception of a new problem that has recently made itself known.


-Once the agonizing pain had been cured and he'd been taken off of the heavy-duty medications, Willy was able to focus on this new problem -- an intolerable itchiness. Day and night, Willy can be found scratching and mouthing at every inch of skin that he can reach, creating bald spots. To prevent him from hurting himself, we accumulated small dog t-shirts and modified several baby onesies to fit him and cover the itchiest spots, but this is not a solution. He scratched and mouthed at the shirt and quickly drenched it with saliva in his attempts to relieve the itching. The source of the itching had not been determined in spite of flea preventative, hypoallergenic foods, and strict limited-ingredient diets. His vet recommended that we take him to a dermatologist for additional testing.

'The Boss' checks out the perimeter--Willy has a full wardrobe of fashionable t-shirts in an attempt to stop him from pulling out chunks of fur and causing skin infections.

Willy's superstar foster was leaving Miami to go to university in Gainesville and the scramble was on--we had to find him new placement, but where? It's not easy to find placement for a toothless, black, FIV+ cat. Luck was on our side because after posting his story in a group of FIV+ cat guardians, a lovely lady stepped up and offered him a new place to call home.

She already had an FIV+ kitty--a handsome, longer-haired black fellow who took to Willy immediately. They are now best friends, and we couldn't be happier for our little Willy Wonka. We are pleased to get frequent updates with photos of the two boys cuddled up together, enjoying each-others company. It makes our hearts very happy!​
​
| | |
| --- | --- |
| | Willy settled in to his new surroundings beautifully, and he wore his tiny tops for a few weeks until his new Mom noticed that he wasn't biting at himself anymore. And now, Willy is au natural! Check out a naked Willy with Pluto--their bond is strong, and Willy is feeling so much better that he no longer needs to wear clothing to protect his fur and skin! Yay, Willy!!! |
We are so happy for Willy--he went from a sick, starving street kitty a year ago to a pampered and beloved member of a forever family. Life doesn't get any better than this!

If you would like to help kitties like Willy get the medical help they need and find their own happy endings, please consider making a donation to our cause. We are 100% volunteer-run and you can rest assured that your entire donation will go directly toward the care and vetting of rescue kitties.