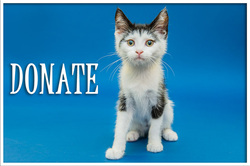 We are a non-profit organization and we rely totally on donations and volunteers.

There are many ways to donate--financial donations help us to vaccinate, spay/neuter, and provide medical care for our rescue pets, as well as providing food and necessities for them. Donating gently used or new items such as linens, pet carriers, cages, beds, etc. helps us in the day-to-day activities we carry out. Volunteering your time and skills is another amazing way to donate -- we are always in need of volunteers who carry out a wide variety of activities from cleaning to photography and everything in between. Fostering is a very rewarding way to volunteer--you open your home and your heart to a homeless animal and you are the bridge between their former life and the incredible new one which is about
to begin for them. What could be more rewarding?


---